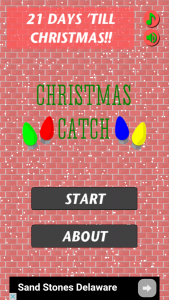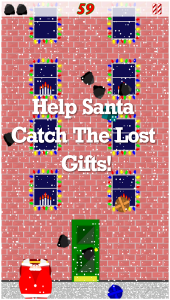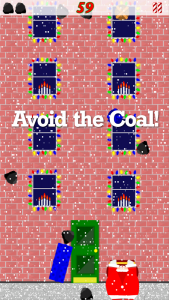 Santa has landed in the big city and there's not a chimney in site! Luckily he has some helpers to toss the gifts down to him on the ground, but it's up to you to help him catch as many as possible and save Christmas!
Enjoy some classic Christmas tunes and try to rack up the largest score possible while avoiding the junky coal in this arcade style game.
Bag 3 chunks of coal and it'll be game over!
This Android Christmas game is a great way to pass time during the holiday season, and it's sure to be enjoyed by kids from 1 to 92! The game also features a daily countdown to Christmas for those of us who just can't wait for the big day to arrive!
And when the holidays pass, be sure to keep the game on your phone as we continually update it with new surprises each year. Christmas will be back before you know it!
Tips for playing Christmas Catch:
You have 3 chances to catch as many Christmas gifts as possible. Missing a gift won't take away a chance, but it will reset the amount of points you earn for each gift.
Each gift caught without letting one drop will increase your next score by 1. So if you catch three gifts in a row, you'll earn a total of 6 points! (1+2+3). Keep your chains high so each gift will give you the maximum amount of points possible. Before you know it, you'll be earning dozens of points for each gift!
Avoid the coal at all costs – getting hit with coal will remove one of your chances. When you lose all 3, it's game over!