As we wind down another great year and get ready for the holiday season, we're ready to push out one last update to Reverse Lookup and Reverse Lookup PLUS. This is version 3.1.22 and features some small but long overdue tweaks to the main call log screen. Here's a brief overview of what was added or changed: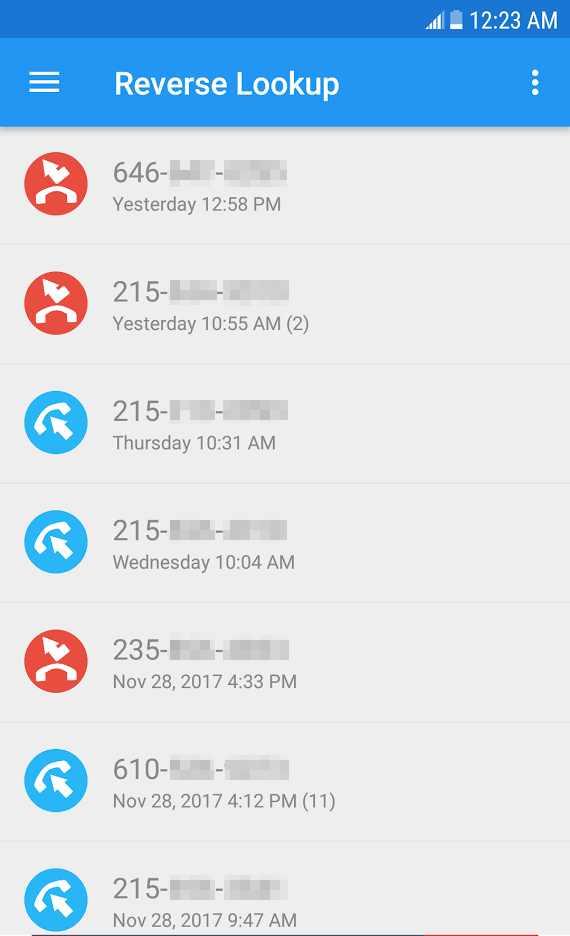 "Friendly" Dates
Previous versions of the app displayed more date information than you probably cared to see, all the way down to the microsecond that the call came in. This caused more clutter than necessary, so we've switched to using friendlier date formats. For more recent calls, you'll see relative dates like "Today", "Yesterday", or the day of the week. If a call is a few days old, you'll see the full date. In either case, you'll always see the time of the call, but no more microseconds. We apologize in advance to all microsecond enthusiasts.
One-Tap Return To Top
If you're the type of person that keeps a long call log, it can be pretty tedious to navigate back to the top of the list once you've gotten close to the bottom. No more. Just tap on the app's title bar and back to the top you go.
Call Frequency Indication

In order to reduce clutter, Reverse Lookup has never listed duplicate calls from the same number. This was great for keeping a tidy list, but we've come to discover that identifying nuisance calls is easier when you can see how many times a number is calling. The app will still only list each caller once, but now you'll see an indicator that shows the number of times their number is listed in your call log. This will be displayed next to the call date(if applicable).
Improved Loading And Reloading
Depending on the speed of your phone, this change may be less noticeable, but the main call log screen is now loaded more efficiently, which should provide for a smoother launch of the app. The refresh function also benefits from this improvement.
---
That's all for this version, and we're rolling out starting now on the Google Play Store. This will be a slow rollout, so please look forward to receiving it within the next 2 weeks or so.
As always, thank you to all of our users. Your continued support makes these updates possible, and for that we're extremely grateful.